With the DNR's live-streaming eaglecam

enjoying international attention, we started reflecting on these iconic Minnesota species. Consider:
5 Ways Wolves & Eagles Are Alike
* MN has more of each species than any other state in the lower 48.
* Each are among very few species that pair raise their young.
* Both usually mate for life.
* Both are top predators brought back from near extinction in the 1970's under the protection of Endangered Species Act (ESA).
* Both are caught, injured and die indiscriminately in traps and snares.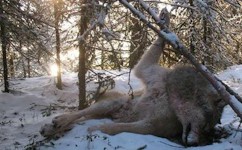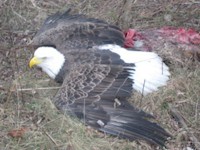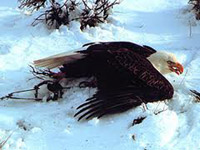 5 Ways Wolves & Eagles Are Different
* Coming off ESA protections and under state management, wolves were immediately subjected to recreational hunting and trapping. Wolves are the only species ever to be hunted immediately after ESA delisting.
* Wolves may be shot on sight by citizens who feel a wolf is threatening their person, pet, or livestock.
* The MN wolf population dropped 25% within 1 year of delisting, while MN's eagle population continues to flourish.
* MN wolves are classified as "small game"; eagles are still protected under the federal Bald Eagle Protection Act and the Migratory Bird Act.
* Eagle chicks get a DNR "eagle cam" and PR campaign. At 6-7 months old, wolf pups will be shot and trapped in the recreational trapping and hunting season. 60% of wolves killed in the MN wolf hunt were under 2 years old. Packs will be disrupted and pups will be orphaned.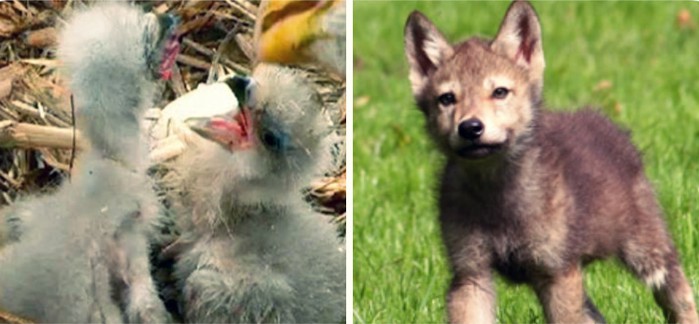 Those in favor of the Minnesota wolf hunt claim that the wolf should "be managed like any other species." That's fine - we pick the eagle. Alike in so many ways, wolves should be treated with the same respect and protections. Will the DNR put up a wolf pup cam? Not likely. DNR Commissioner Tom Landwehr testified this winter that bear "den cams are creating internet celebrities" out of bears that lead to "outcry" when one is legally killed by a hunter. No, the DNR wouldn't want wild wolf pups to become internet sensations if we're just going to kill them in November.
With only weeks left in the legislative session, we call on lawmakers to protect Minnesota's other iconic species -the wolf. And we ask them to protect all creatures from cruel and indiscriminate snares and traps.