In humility, I am a hunter: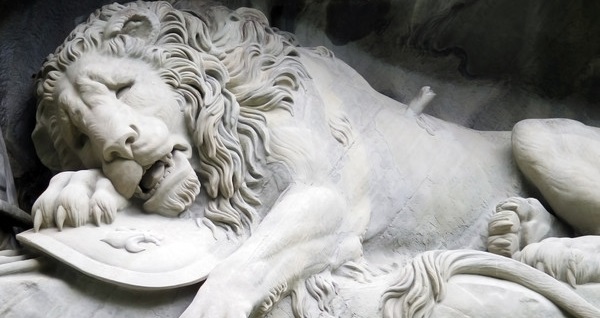 I just finished reading the gruesome details of the Minnesota dentist who, through a guide service lured Cecil the lion, a favorite with tourists, out of a national park in Zimbabwe and shot him with a bow.
As disgusting and sickening as this is, I know what it will mean on the internet for the next week or so is a host of postings on what despicable beings hunters are and I for one, am sometimes at a loss as how to express my beliefs or justify them. As a hunter I cannot tell you that a majority or minority of hunters support or condemn this. I would like to think that the majority condemn it but I really can't say. What I can say is that I live as sustainable and environmentally correct life as I can. I have thought about vegetarianism but I am not ready for it. I do avoid corporate produced meat and restrict my diet of meat to that which I kill myself and local free ranged livestock.
I do think that sinful acts like the killing of Cecil polarizes us, hunters and non-hunters, in a way that plays into the enemies hands but who is the enemy? We do not always have a clear identification of who they are.
For years I have been talking about a "three legged stool" in regards to the culpability of recent wolf hunts among other conservation issues. I have been stating that the "legs" are state DNR's, legislators, and organized hunting groups (such as the Minnesota Deer Hunting Association/MDHA as in my state of Minnesota.) As this wolf issue has evolved since 2012 I have added Big Ag as a leg of the stool as cattleman's associations have aggressively stepped forward in their demands of zero tolerance for wolves. All stools have a seat which is supported by the legs and seated and supported by these legs is the "Recreation/Industrial/Ag Complex." I remind you of President Eisenhower's farewell "Military/Industrial Complex speech to Congress. The speech was originally titled the "Military/Industrial/Congressional Complex" but since Eisenhower was giving the speech to Congress, it was thought best to remove the word "Congressional." In this speech he warned the public of a looming danger to America. I here warn American's of a different looming threat to our land , environment, and what's best about America and what's best about being an American; Rec/Ind/Ag Complex.
As management of our natural resources have become more market place driven and as hunting, fishing, motorized recreation and so forth have come to be seen by natural resource agencies as "clients" and "stakeholders" less attention or no attention is given to groups unless they are "clients." And for the record, these state agency decisions, like wolf hunts, have nothing to do with majority opinion. This isn't just happening in Minnesota, it is happening nation wide. Large industries have sprung up where none existed before. Sporting goods catalogs now exist resembling old Sears and Roebuck catalogs where in some cases there are twenty or more pages of just camouflaged clothing. The majority of deer hunters ride ATV's every where they go and the woods on opening day of deer hunting sounds more like military maneuvers at Fort Ripley than the old days when one looked forward to the silence of a frosty morning is a tree stand. In a sense, much of this is the gentrification of hunting and fishing. You have to have a lot of money nowadays to hunt and fish....or keep up with the trends. This "complex" has transformed deer hunting more in the last 20 years than it has in the last 200 years.
I love to hunt, I am good at it, yet I respect and know what I am hunting which in my late years has been restricted to whitetail deer and ruffed grouse. The venison is important to our subsistence diet. I am not a trophy hunter but am not always sure where one draws the line that separates trophy hunting from subsistence hunting. I often shoot a mature buck and I save the antlers as they are a thing of admiration. Some would consider this trophy hunting, I would consider it highly disrespectful to throw deer horns away as I believe the spirit and essence of the animal is in those horns. Consider the caves of Lascaux in France. Those prehistoric hunters showed great affinity for those massive flowing antlers as aptly painted on the cave walls.
The upshot of this is that there is a sizable portion of hunters out there who find hunters like the dentist who killed Cecil the lion a disgrace to all hunters and many of these see killing apex predators as simply wrong. I personally know of deer hunters who would give anything to hunt deer in the northwoods and hear wolves howl. I have heard hunters tell of the experience of seeing a wolf while hunting deer and describe the experience as one of the greatest they've ever had while afield. I also know of other hunters who espouse the ideals of "fair chase" and believe that ethics is as essential to hunting as actual success in the field. As Leopold said, when alone afield, only you are the judge of yourself...no one else.  The nationally well known hunter/writer David Peterson stated that it's wrong to kill a grizzly or wolf. The widely read bow hunting author Texan Jim Hamm told of his experience bow hunting deer in the Leech Lake region of northern Minnesota and having the thrill of hearing wolves while in the woods, something he wrote that his fellow Texans would most likely never experience. And then there are men like Aldo Leopold who were equally as much hunters and they were conservationists who were some of the first American's to speak and write publicly for the preservation of wolves and bears.
It is time for more hunters to come forward and speak out against heinous acts such as happened recently in Africa and it's time that ethical hunters, non-hunters, and animal rights advocates to put aside our differences and work together for the common goal of honoring our relatives who we share in the travails of life on earth; the wolf and the bear. We must not let them keep us divided. As a hunter, I am as offended by this barbaric act of senselessness and am ashamed to be categorized with this behavior.