The wolf in America has become a political symbol of a nation divided: Divided between the takers and exploiters and protectors and conservators of wolves and the last of the wild. Wolves are in the crosshairs again of legislators bent on passing legislation (without judicial review) in Senate Bill 164 to take away the specie's federal protection under the Endangered Species Act. Such legislation ignores the vital role of wolves in maintaining healthy forests,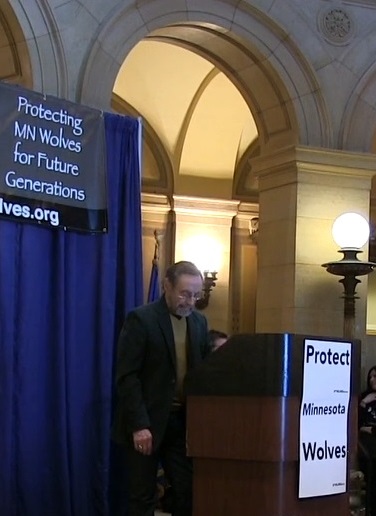 deer, elk and biodiversity. It replaces that role with the arrogant assumption that we can do better without wolves as wildlife and wild lands managers and "harvest" them on a sustainable basis for recreational trophy sports hunters and trappers.
Abnormally high deer populations fostered by State departments of natural resources and by recreational deer feeding stations of private land owners have helped decimate habitat quality and diversity, helped spread chronic wasting and other deer diseases, some communicable to humans such as Lyme disease that has become a significant, nation-wide public health issue.
De-listing wolves will open their domain to mining, logging and other destructive human incursions and they will suffer and die under the renewed assault of the publicly subsidized beef industry and legions of hunters and trappers.
According to the Economist Intelligence Unit's latest Democracy Index, the U.S. government has been downgraded and is no longer classed as a "full democracy." It never will be so long as its native flora and fauna, its indigenous peoples and species, communities and domains continue to be marginalized. The informed majority of America can stop this destructive juggernaut of vested interests by urging their Senators to oppose Senate Bill 164 because in the protection of the wolf lies the preservation and restoration of  democratic process, eco-justice and a sane and humane society.