It was a disappointing day for the wolf at the Capitol. For two years, we've had good bills for wolf protection and management blocked in committee. This year we proposed a compromise bill calling for a temporary suspension of the wolf hunt and comprehensive data collection. We've learned today that many lawmakers are seemingly entrenched in their extreme negative feelings toward the wolf.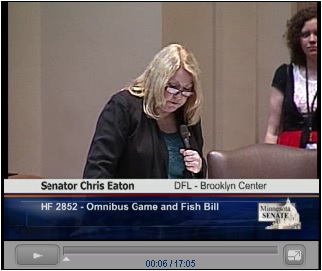 Endorsed  by a panel of 10 top independent research scientists, SF2256 was recognized as a reasonable bill, a compromise bill. Over 400 wolf advocates packed the rotunda for Wolf Day in February. Thousands of people from Minnesota and around the world have written to our lawmakers pleading for wolf protections and an end to the recreational wolf killing. Phones have been ringing at the Capitol for months. Advocates have been at the Capitol for the past eight days as a visible presence for the wolf. In short, wolf advocates have conducted a sustained, sometimes noisy effort to reverse an unpopular wolf hunt that was passed quietly and rushed into law.
With our bills stalled in committee, several amendments were introduced in an attempt to get some protections for wolves this session. Even if amendments pass, they can still be removed in Conference Committee by Representative Dill or Senator Schmit. A modest amendment calling for wolf deaths to be posted quarterly to the the DNR website passed with a slim margin. Senator Eaton's amendment calling to reinstate the 5 year wait before a wolf hunt was defeated 36 to 27. Another amendment that would ban snaring all wildlife and baiting with meat piles and electronic distress calls for wolf hunting was defeated 34 to 29. The good news is that we had a lot of votes for the wolf and some strong, steadfast champions. We also have more lawmakers committed to advancing wolf protections, including authentic offers for leadership on the issue.
We'll keep you posted on developments in Conference as we learn them. Watch today's hearing.