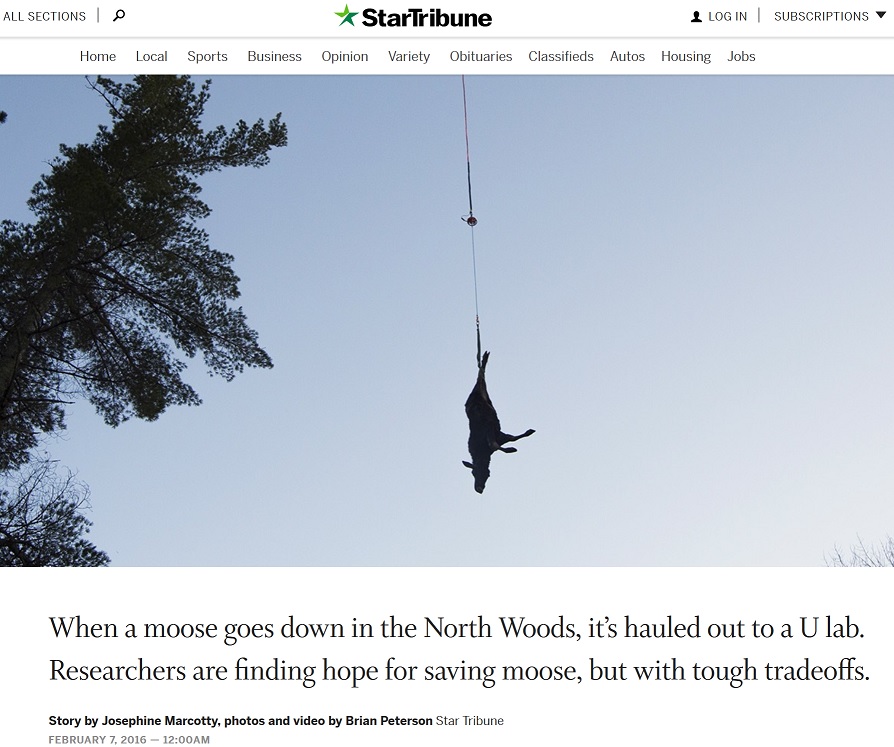 A Star Tribune article published Feb 7, 2016 raises the possibility that wolves are somehow responsible for the decline of moose populations in Minnesota and that this might justify a wolf hunt, thereby excusing trophy killing.  Before this article is taken at face value, we need to look more carefully at the myriad claims, most of which are unsubstantiated.  The article itself provides the proof that this simple minded assumption of cause and effect is wrong.  The charts provided by the Star tribune show higher moose (and deer) populations at the same time the most wolves were counted in Minnesota.  If wolf and moose populations are inextricably linked, we should want more wolves, not fewer.  Perhaps the argument is the non sequitur that because wolves have been observed to feed on sick and dead moose, the removal of wolves would not make these sick individuals get better.   Moose are declining in places like New Hampshire where wolves are non-existent.   Moose are not dying off in Isle Royale where there are wolves (but no deer).
 The statement that wolves have maximized their range has no scientific basis: it is an assertion by Dr. Mech because he has seen wolves that are "skinny", like the moose.  Moose could very well be suffering more deaths from illness because of warmer winters and hotter summers due to climate change combined with pervasive habitat destruction.  The survival of the parasite afflicting moose may also be enhanced by these warmer conditions year-round.  I suspect Dr. Mech has not researched this possibility, in spite of his blather targeting wolves for slaughter.
Could it be that Dr. Mech's study wolves are also suffering from issues tied to a generally declining ecosystem?  Many scientists believe we are witnessing a mass extinction of wild animal populations due to human carelessness and greedy behavior.  Under these global circumstances, it is irresponsible to insinuate that killing wolves will keep moose from dying or other wolves from starving.  It is a razor thin (and baseless) judgment to claim it is better to kill wolves to hang on the wall rather than let nature take the chance that some will starve.  Wolf hunters do not select individual animals to shoot for the "worst or best" genes for survival, let alone to compensate for specific environmental problems.  I suspect no trophy hunter has ever massaged a wolf "feeling their every bone" to decide if it was the right wolf to kill, even if he had the time. That being the case, DNA analysis to decide which wolves to spare for the benefit of the species before pulling the trigger is pretty much ruled out.  Seems to me that mankind has never gotten it right, even when armed with the latest in technology.  To suggest that a trophy hunt is a measured or controlled way to preserve a species is pure hokum.
Wolves have NOT been shown to be the cause of declining moose populations, but trophy hunters will jump on any excuse to kill them.  Wolves have it hard enough and they too, will disappear when their food source is gone.  After three years of reckless wolf hunting, Minnesota wolf populations have been pushed down to levels last seen since 1988, never mind the moose question.  Lobbying for another year of trophy killing is irresponsible, dangerous and without a shred of justification, scientific or otherwise.