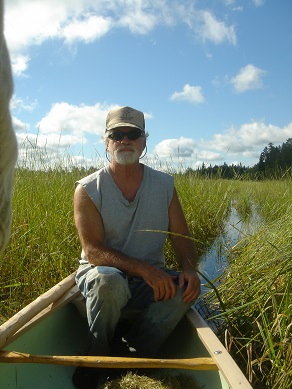 For many years it has been obvious to those of us advocating for measures to protect our diminishing natural resources that the very people assigned to perform these functions seem more inclined to be working against us. I can't recall how many times someone of our ilk has made the comment to me, "I thought the MNDNR was supposed to be protecting the environment, not working against it." This accusation can be also applied to the USFS and more so to county land managers. Of course, this is a general compliant - there are well intentioned people working within these resource agencies - wanting to do the right thing for the natural world. But overwhelmingly, the culture of forestry, wildlife, waters, and so forth are principally managed within market based logic - not what's right for the environment. Look at who three of our last four MNDNR Commissioners were; two politicians (Merriam & Holsten) with no natural resource background/training and one retired FBI agent (Allen Garber). Having been part of a number of committees and 'task forces,' I repeatedly hear DNR staff refer to snowmobiliers, ATVers, dirt bikers, mudder trucker, hunters, fishermen, trappers, etc., as their clientele and stake-holders. Rarely do I hear them refer to animal and plant communities as stake-holders. The plant and animal communities do not provide the legislative muscle and lobbying power that the special interest and consumptive stake-holders mentioned above have.
There was a time, perhaps 40 to 50 years ago when there was a balance in the DNR of politics and science.....maybe 50/50, but today, the sad reality is that politics and economics carry's the day. A retired wildlife manager once asked me how you tell the difference between a forester and a farmer during a hotly contested question of inappropriately placed ATV trails involving 'forestry.' His answer was that a farmer wears striped overalls, a forester wears green overalls. The upshot was that both were more concerned about yield - bushels and board feet. I would add a third comparison: the wildlife manager - he wears camouflaged overalls - increasing game populations for harvesting, similar to harvesting corn and trees.
Even many environmental groups are suffering from this creeping fund raising malady along with their relationships with corrupt legislators - more concerned about money than doing what's right for the ecosystem. With this wolf issue heating up, few if any environmental groups are willing to stand up on the proposed wolf hunt.
The opinions of the International Wolf Center have been brought to my attention -  in the winter 2010 issue of the International Wolf Center Magazine - http://www.wolf.org/wp-content/uploads/2013/12/winter2010.pdf:
"Considerations for Developing Wolf Harvesting Regulations in the Contiguous United States" - authored by co-founder L. D. Mech raises some disturbing issues about where the International Wolf Center is on the wolf hunt.
You can read the two page article via the link provided (2010 winter issue) plus I have copied and pasted below some verbiage from the Mech article that I find upsetting, like hunting wolves from airplanes or ATV's, controlling wolf populations by killing pregnant females, and even tracking them via wolf radio collars. He even talks about killing wolves to increase game populations! Furthermore, the IWC is funded by donations from private citizens and the public. This point needs to be questioned and made public. I thought we turned this ugly page in our history.
Let me make one thing clear about this message; I am a hunter and have been for nearly 50 years but I find the culture around hunting to have been extremely transformed in the last 20 years. Ethics, responsibility, and conservation motivated thinking are more a rarity than common place. Our forests are under an invasion of motorized hunters; deer hunters who can't even get to their starter-castle tree stands on foot, they ride ATV's. Grouse hunters who hunt from ATVs. The majority of hunters should have the appropriate bumper sticker on their trucks that states; "he who dies with the most toys wins." That's what it's about now - money & consumption.
What adds a note of irony is the commonly held belief among most hunters that what makes deer hunting so attractive is that the whitetail deer is so elusive and challenging a quarry. The irony of it is that this elusiveness and wariness of the whitetail is the result of millions of years of being chased and tested by the wolf. For some of us, to hear a wolf or even see a wolf is far more rewarding than shooting a deer.
"Harvesting many wolves is not always easy, which is why
in regions where they were not extirpated but have long
been harvested, extraordinary methods have been used,
although not all are necessarily used now. Such methods
include aerial shooting (also currently employed for livestock
depredation control by Wildlife Services in the NRM),
tracking by snowmobile (Canada), and spotting from
aircraft and then landing to shoot wolves (i.e., land and
shoot) in Alaska. These approaches appear unfair to much of
the public who are unaware of the difficulties of taking
wolves and are bitterly opposed. Hunting wolves with fairchase
standards had never been tried in the contiguous 48
states until 2009. Such standards succeeded better than
some expected in Montana and worse than some expected in
Idaho. However, there is reason to believe that in most
extensive forested areas with low road density fair-chase
hunting deliberately for wolves will not be very productive
given the low density of packs and the crepuscular and
extensive travels of wolves. Chances are high that most
wolves taken by fair chase will be shot incidental to biggame
hunting, primarily because of many hunters afield
during those seasons."
"Because wolves were recently on the ESL, many still carry
radiocollars, and at least some states will continue to use
such collars to monitor their wolf population. States
currently prohibit hunters and trappers from using tracking
receivers for taking wolves because this technique would not
be considered fair chase. Use of snowmobiles, all-terrain
vehicles, and horseback to track down and shoot wolves
might be useful in more open areas for short periods before
wind obscures tracks in snow. Effectiveness of these
techniques and the regulations governing their use probably
will vary by state."
"A similar consideration that can be made toward the end
of any annual hunting or trapping season would be to end
the season before fetuses in gravid females are obvious. In
most northern states that would be by 1 March, which also
coincides with when wolf fur has lost its prime. Allowing
harvest through February, however, would assist with wolf
control by increasing chances that gravid [pregnant] wolves would be
taken."
"Whereas the above considerations focus primarily on
public perception of the humaneness of hunting, some of
the public will judge the success of wolf hunting by its ability
to decrease conflicts between wolves and ranching. Wolftaking
regulations should, therefore, attempt to focus wolf
harvest on areas where wolves kill the most livestock.
Reducing wolf density there could reduce conflict with
humans and the need for costly deliberate wolf control while
also gaining more public support. Similarly, where states
perceive the need to reduce wolves to increase wild prey,
concentrating public taking there could reduce the need for
deliberate control by state agencies, which tends to be
opposed by certain segments of the public."