RSVP: Wolf Day at MN Capitol (April 11, 2018)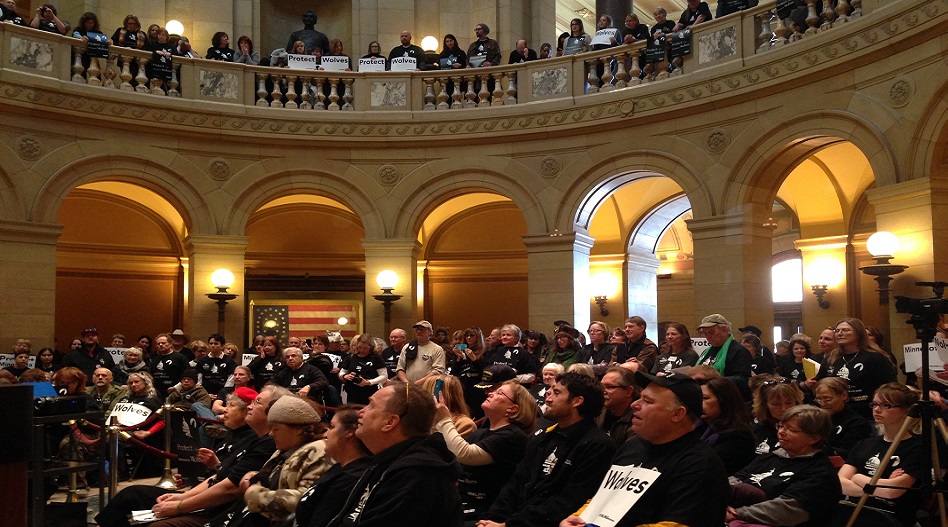 Come #Stand Against Snaring and speak for the wolf, join other wolf advocates and tell your lawmaker to protect the wolf. The wolf needs us to advocate and speak for her and her pack with Minnesota state lawmakers in St. Paul.  The wolf may soon lose federal protections and the drum beat for wolf hunting that uses cruel methods will begin again.  This 2018 legislative session we will push to pass bills already introduced and now in the second year of the bienium. Our bills include eliminating all wildlife snaring, requiring permission be obtained to trap on private lands, repeal the wolf hunt which is still in law and a new bill that requires we have wildlife rehabilitation facilities permitted to help an injured wolf.  As a Constituent, you are vital to persuade lawmakers to protect the wolf.  The wolf needs us to speak for her and her pack.  Last year our nonlethal prevention method bill was passed and farmers are now being reimbursed for the methods they purchase to prevent conflicts with wolves.
Please accept our new shirt designed just for this day.  We ask that everyone wear a wolf shirt (older ones too) to let lawmakers know we are there for the wolf. We will have buses from Duluth and St Cloud, and encourage people to relax for the trip and take the bus.
Volunteers are needed before and on Wolf Day.  We need people to help with set up and take down and distributing materials and others willing to stand in places throughout the office buildings to be seen and to direct people. Write to: volunteer@howlingforwolves.org if you can volunteer.
See times and directions at our Events Page.