Minnesota wolf harvest totals exceeds quota; Howling For Wolves demands suspending further wolf hunts
PRESS RELEASE
FOR IMMEDIATE RELEASE
December 10, 2014
CONTACT:
Dr. Maureen Hackett, Howling For Wolves, 612.250.5915 or
Leslie Rosedahl, LWRosedahl@locklaw.com, 651.353.1818
Minnesota wolf harvest totals exceeds quota; Howling For Wolves demands suspending further wolf hunts
New study shows lethal methods do not help predation on livestock
(St. Paul, Minn) – Minnesota-based wolf advocacy group Howling For Wolves calls on Governor Dayton and the Minnesota Department of Natural Resources (DNR) to suspend further wolf hunts in Minnesota citing their poor lack of management and failing the public's trust, and a new recent statistical study showing the lethal methods with wolves is ineffective and causing increased detrimental effects for farmers.
WOLF HUNT EXCEEDS QUOTA:
Minnesota's third consecutive wolf hunting and trapping season has ended in all but one zone. The harvest was dramatically over the DNR's quotas, with the DNR's website showing 145 wolves shot and trapped, 19 higher than the 126 quota target. The season was supposed to run until January 31 or until hunters reach their quota. From the DNR's wolf webpage: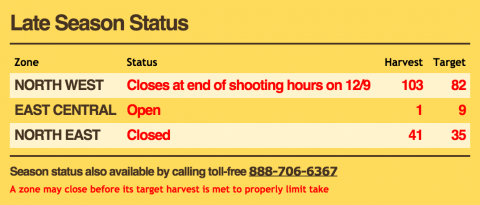 "The DNR is not enforcing its quota – and that violates the public's confidence that a sustainable wolf population will be maintained. They are endangering our wolves," said Howling For Wolves Founder and President Dr. Maureen Hackett.
With an average of ten wolves killed per day in the late season so far, it is estimated that this will be the earliest close to the late season wolf hunt as well.
NEW WOLF STUDY SHOWS CURRENT WOLF MANAGEMENT TACTICS ARE INEFFECTIVE:
In addition, a recent study just published by researchers at Washington State University shows wolf management tactics in order to reduce wolf predation on livestock are not effective. Killing wolves makes these agriculture predations even worse.
The study compiles 25 years of statistics from several states and indicates that when more wolves are killed there is an increase in predation on livestock the following year. Researchers recommended that non-lethal methods be considered when possible.
"The annual wolf hunt is completely unnecessary and the Minnesota DNR should return to the original wolf management plan. As Washington State University's study shows, the killing of wolves is counterproductive to the current plan and leads to increased wolf-livestock conflict. Based on these new statistics we urge Governor Dayton and the DNR to suspend the wolf hunt immediately," said Howling For Wolves Founder and President Dr. Maureen Hackett.
###